Automatically generate REST API from relational databases.
Build REST APIs quickly
Securely utilize existing backend systems
Deliver data from databases efficiently
Build faster with low code software
Make database content accessible
Read/write in convenient formats like XML, JSON, and CSV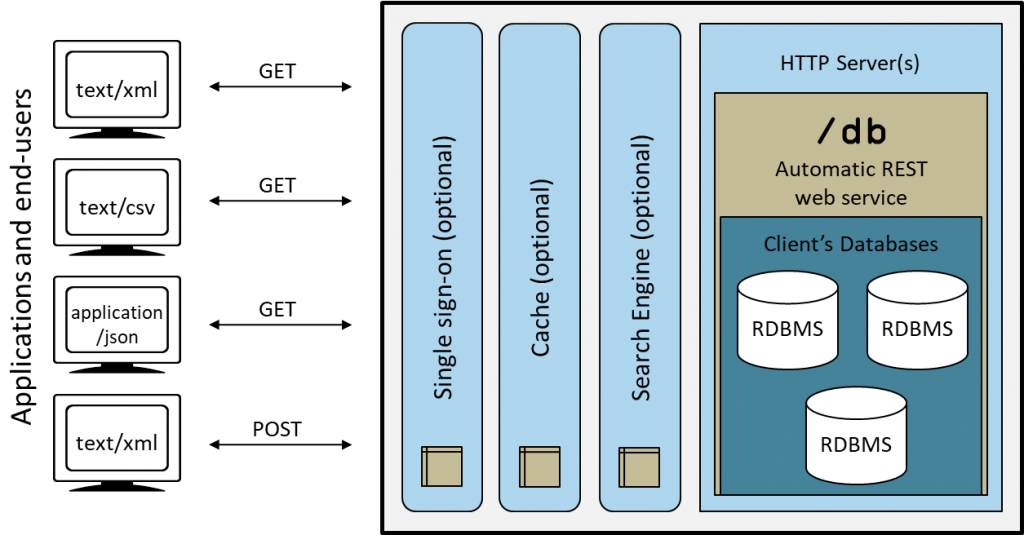 SlashDB can work with a variety of platforms and back-end databases — Linux Machines, cloud services, or on virtual machines










"Their API on the Fly approach helps the back end data wranglers expose new data sets to the user interface team at a record pace. We look forward to working with SlashDB for many year to come."
"When it comes to speed of implementation and support, you will have a very hard time matching SlashDB."
John Kirby, VP Web Development, TeacherList
"Using SlashDB, our customers can utilize remote APIs with little to no coding for creating customized reports on premises.
That capability was essential for migrating our solution to the cloud."
Director, Cloud Services,
Global Enterprise Software Provider
"SlashDB is a great low code solution to move to the cloud easily. Without it we would have had to spend a year of effort without knowing if it would work. SlashDB actually saved the project."
"Using SlashDB our customers can now utilize remote data APIs with little to no coding for creating customized reports on premises. That capability was essential for migrating our solution to the cloud."
"Thank you for helping make a client very happy for the years we had it up. We love using your technology as our part of our new business pitches."
"What I like is that SlashDB lets you navigate resources and relationships through generated HTML pages and then retrieve the XML or JSON you need."
"When it comes to speed of implementation and support you will have a very hard time matching SlashDB."