Fresh from the API Strategy & Practice – slides from The Future of Data session.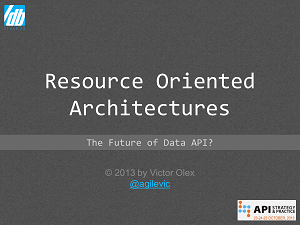 SlashDB's founder Victor Olex gave talk on this topic at the API Strategy & Practice conference yesterday.
[quote]Where service oriented APIs are designed around business functions, resource oriented architectures are about providing unobstructed access to data assets. They are complementary and have distinct uses and trade-offs.[/quote]
One participant remarked that the talk was in Tim O'Reilly style, entertaining but also with a solid basis in facts and history. We take it as the highest compliment.
Slides & Video
We are making the slides available here in PDF and PowerPoint Show formats. As soon as a the video comes out we will share it on this blog so stay tuned (subscribe form on the sidebar).