Slash DB is proud to share our work for API Evangelist.
Earlier this month, API Evangelist issued a Twitter challenge to create an API for Ranking Digital Rights data. We're happy to say that we not only accepted this challenge, but succeeded in creating the API in just a few short hours. This quick turnaround was possible by using SlashDB API technology.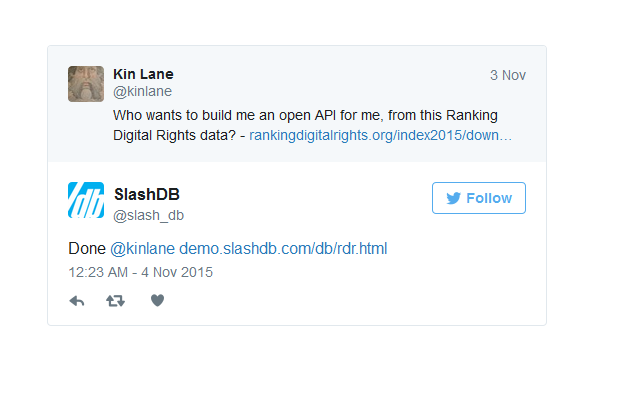 Victor Olex, SlashDB founder and CEO, (@agilevic) wrote:
I took your Twitter challenge and created the API for Ranking Digital Rights data. The data model does not include scores for individual lines of business, but it does have all qualitative data needed to make sense of it. I did not write any data aggregation queries, but we can add those later. The whole thing works off a MySQL database model, which I designed and fed with data from the spreadsheet.                                                                                                                                                                                                

At SlashDB we pride ourselves on creating easy to use  APIs that can be installed quickly and efficiently. API Evangelist's challenge played right into our element and we're happy to note that the result was exactly what they wanted. API Evangelist wrote, "What I like about SlashDB, is it lets you navigate the resources and relationships through the generated HTML pages, and then retrieve the XML or JSON you will need."
The next time you're faced with the need for an API think of SlashDB. We rise to any challenge without squabble – the only thing you'll hear from us is a single utterance –"Done."