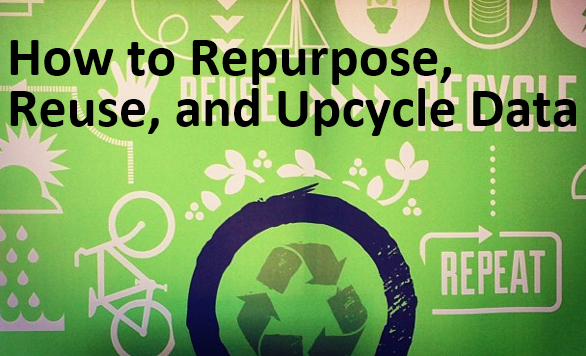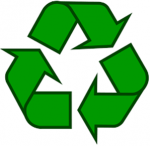 It's no secret that creating data-driven marketing materials can be time consuming and labor intensive. Turning your data into marketable content is a creative process that requires time, energy, and ingenuity. So, it makes sense to repurpose, reuse, and upcycle data to get the highest return for your investment – both financially and temporally.
Repurposing used content can increase your productivity and accelerate content production while using only a fraction of the time needed for generating completely new data-driven content.
Here's everything you need to know to work smarter, not harder.
Repurposing, Reusing, and Upcycling Data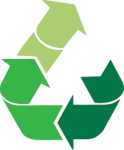 Data, once retrieved, can be used – and reused – in many ways. For instance, a white paper filled with a treasure trove of data-driven facts about your product can be used to generate several new data content pieces. Your research is complete – you have a ton of data in your white paper so now you can reuse this original data to create off-shoots of new, yet unique data content.
How to Repurpose, Reuse, and Upcycle Data
Repurposing data sounds like an ingenious way to keep your website, blog, and social media accounts filled with fresh content, and to help save money. But how many ways can you re-use the same data? Here's a list of ways to give new life to your data for those with a creative block.
Turn old blog posts into guides. If you've produced a lot of posts on the same topic, consider upcycling these posts into a comprehensive guide.
Convert internal data into case studies. Testing is a hot topic right now so chances are you've already conducted some tests of your own. Repurpose the data from these tests by turning them into data-packed case studies.
Create statistical soundbite posts. Statistical soundbites are perfect for social media platforms. Reuse data from case studies to create data-driven posts.
Repackage blog posts into a Tips Newsletter. If you update your blog regularly, consider producing a weekly, bi-weekly, or monthly newsletter replete with blog highlights for a select email group who might have missed a post or two.
Transform white papers and case studies into slides on SlideShare. Break-down your data into slide-size bites of information and publish them on SlideShare. SlideShare slideshows are also very easy to promote on LinkedIn.
Benefits of Repurposing, Reusing, and Upcycling Data
New audiences can be reached with repurposed data. You can make your data engage a wide range of audiences by creating multiple pieces of content centered around the same data by creatively reusing data to strike a chord with targeted demographics. Data can also be repurposed to be a better fit for publication on an assortment of business blogs.
Multiple content formats can be created by upcycling data. Data can be easily recalibrated for different platforms, such as websites, blogs, and social media. For example, charts, infographics, and images are more visually engaging and tend to perform better on social media platforms, such as Twitter.
Stretching resources is a huge benefit of reusing data. Reusing major research, such as a white paper or case study gives you content that you can find new uses for over the years by simply revising and renewing data.
SlashDB as Your Data Retrieval Tool
You have to have data before you can repurpose, reuse, and upcycle it, which is where SlashDB can help. SlashDB is an API add-on gateway which acts as a lightweight shell for any application or database, and instantly provides a central access point. With SlashDB the content in your application or database

becomes accessible through authorized web and mobile applications. Our technology allows you to access your data through multiple platforms and – huge bonus – creates a unique hyperlink for each individual piece of data, which streamlines your ability to extract data swiftly and efficiently. SlashDB's API to data makes it easier to present data from different angles and for different kinds of publications. In cases when data changes any (digital) publications are updated automatically. For example, you can create a live infographic that updates automatically so the data is always current.
At SlashDB we're committed to accessibility and that's why our technology implements a "what you see is what you get" set-up. SlashDB allows users to access and retrieve data with ease, relying on their intuition to extract the information they need rather than relying on complicated search queries.
SlashDB has made it our mission to transform APIs into highly accessible, searchable, and efficient workplace tools. If you think our API add-on can help streamline your data content needs, contact us and we'll work with you to find the best solution.